November 15 2010
2
15
/

11
/

November
/

2010
15:23
One of incredible rhytmic gymnasts in the world , she is so fast and so talented , she finished 5th in Athens 2004.
Many people including me , we think that she must finish 3rd or 4th because she made wonderful routines with an unbelievable end in her ribbon routine ..
It's Natalia Godunko !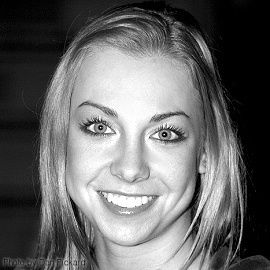 Name: Natalia Godunko
Наталія Годунко
Date of Birth : December 5, 1984
Place of Birth : Kyiv , Ukraine
Coach : Albina Deriugina
Club: Deriugina school
Take a look at her ribbon routine , this is what i am talking about !

Well , actually Natalia Godunko is my favorite gymnast , I just fell in love with her , even while doing my gala , i want to do some moves that she does ..
At Athens 2004 , Natalia qualified in 4th with a score of 102.750. In the final she came 5th (Ribbon 26.125, Clubs 26.375, Ball 25.800, Hoop 25.500)
Natasha was retired in 2008 but in 2010 we were all surprised by her come back again and competing in moscow world cup 2010 ..
Also she went to Euskalgym 2010 and she performed a lovely gala there :
Natasha will still the best rhytmic gymnast ever in the history of rhytmic gymnasts <3

Rosemereta^^