August 11 2012
7
11
/

08
/

August
/

2012
00:56
London 2012 Olympic Games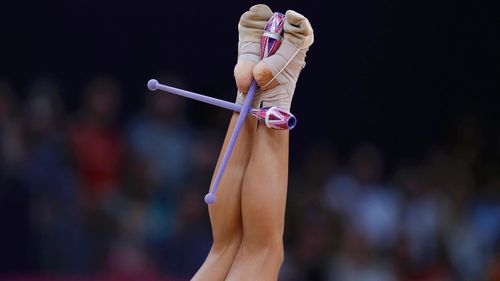 It's not just a sport , it's a story told by the gymnasts on the carpet ..
It's just unbelievable what happened ! Uliyana Trofimova who was injured badly competed but she isn't qualified , this must have taken a lot of courage ..
Egypt is represented for the first time since Sydney Olympic Games by the wonderful Yasmine Rostom who did a great work on the carpet , she made all the egyptian rhytmic gymnastics fan happy ...
It's simply ....... an amazing competition !
Daria Dmitrieva performed an amazing hoop routine with wonderful flexibility elements , Evgenia Kanaeva made a little mistake on day 1 that made her come in the 2nd place just after Daria but in day 2 , Evgenia did her best and became in the 1st place and this proves that Evgenia is one of the legendary gymnasts in the history of rhytmic gymnastics.
Now here is the results of day 1 and day 2
| | | | | | | | |
| --- | --- | --- | --- | --- | --- | --- | --- |
| Ranking | Name | Country | | | | | Result |
| 1 | Evgenia Kanaeva | | 28.100 | 29.525 | 28.975 | 29.400 | 116.000 |
| 2 | Daria Dmitrieva | | 29.000 | 28.800 | 27.800 | 28.925 | 114.525 |
| 3 | Aliya Garayeva | | 27.450 | 28.350 | 27.850 | 28.200 | 111.850 |
| 4 | Silviya Miteva | | 27.700 | 27.800 | 27.325 | 28.100 | 110.925 |
| 5 | Liubou Charkashyna | | 28.050 | 28.400 | 27.450 | 26.550 | 110.450 |
| 6 | Yon Jae Son | | 28.075 | 27.825 | 26.350 | 28.050 | 110.300 |
| 7 | Alina Maksimenko | | 27.300 | 28.125 | 27.800 | 26.800 | 110.025 |
| 8 | Joanna Mitrosz | | 27.425 | 27.250 | 27.625 | 27.450 | 109.750 |
| 9 | Neta Rivkin | | 27.450 | 26.200 | 27.525 | 27.725 | 108.900 |
| 10 | Ganna Rizatdinova | | 27.350 | 26.800 | 27.750 | 26.950 | 108.850 |
| 11 | Deng Senyue | | 27.150 | 26.800 | 27.575 | 27.300 | 108.825 |
| 12 | Melitina Staniouta | | 27.500 | 26.700 | 27.600 | 26.875 | 108.675 |
| 13 | Delphine Ledoux | | 27.100 | 27.150 | 27.250 | 26.675 | 108.175 |
| 14 | Carolina Rodriguez | | 26.900 | 26.625 | 27.175 | 26.100 | 106.800 |
| 15 | Anna Alyabyeva | | 27.200 | 26.575 | 25.250 | 27.400 | 106.425 |
| 16 | Julietta Cantaluppi | | 25.200 | 26.675 | 26.850 | 26.550 | 105.275 |
| 17 | Jana Berezko-Marggandar | | 26.300 | 26.55 | 27.325 | 24.900 | 105.100 |
| 18 | Caroline Webber | | 25.925 | 25.950 | 26.725 | 26.350 | 104.950 |
| 19 | Christellani Trikomiti | | 26.250 | 26.250 | 26.375 | 25.800 | 104.675 |
| 20 | Ulyana Trofimova | | 24.650 | 24.625 | 23.275 | 24.800 | 97.350 |
| 21 | Julie Zeltin | | 23.750 | 24.450 | 24.225 | 24.250 | 96.675 |
| 22 | Janine Murray | | 24.350 | 23.100 | 23.875 | 25.000 | 96.325 |
| 23 | Yasmine Rostom | | 23.925 | 23.775 | 25.050 | 23.500 | 96.250 |
| 24 | Francessca Jones | | 24.200 | 24.550 | 21.975 | 23.900 | 94.625 |